Release: Prestige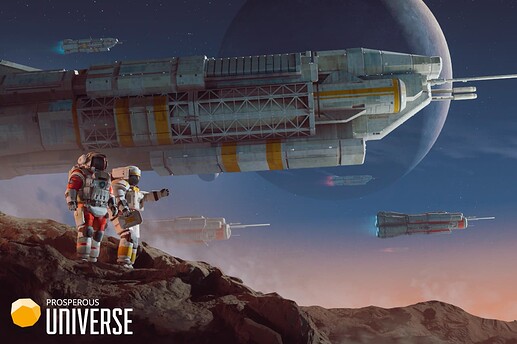 Release date
The APEX update will be released on December 6th, 2022
General Notes
If your APEX console is stuck in a loading state after the update, please make sure to refresh it once after the update to ensure you got the latest version.
New features
Faction Contracts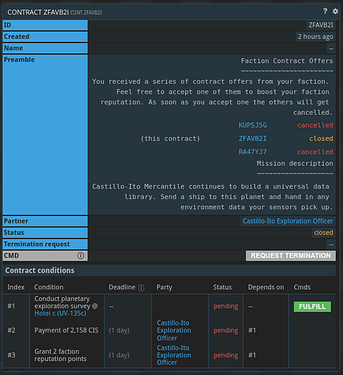 Faction contracts are the newest addition to the contract system. Your faction will send you three contract offers to choose from every now and then. Contracts will be randomized and range from simple shipping contracts up to contracts where your faction rewards you for becoming governor of a planet. If you don't like the contract offers you get, you can decline them and wait for ones that suit you better.
The different contract types do not drop at the same rate, there are common, uncommon and rare ones. The rarer the higher the reward. Faction contracts have three reward types: currency, materials and faction reputation. The faction reputation will influence the currency and material rewards and may become a part in future systems.
Faction contracts can be accepted independent of license status, so they will open up a new way of earning money during the early game.
Commodity Exchange Broker Tick Sizes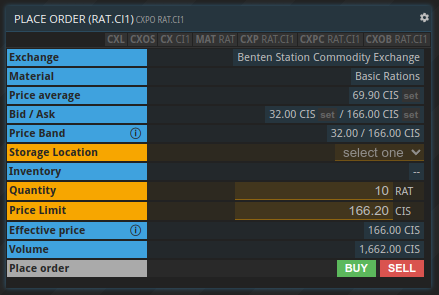 Prices entered when creating orders on commodity exchanges are now converted into an "effective price" that is shown right below the price you put in. The effective price is the one that will actually be posted with the order and is always rounded o 3 significant figures. This means for prices above 10 the minimum increment is 0.1, for prices above 100 the minimum increment is 1, and so on.
Changes
Added a tool to our support belt that allows us to rename companies and change their code. This is especially relevant for supporters that want to change their company code to a two or one letter code without doing a COLIQ.
Added a bunch of new tutorial videos to the transmissions command TRA. Shoutout to @SeaPear for creating them, we love them! Thanks!
Increased the amount of time a company of a BASIC licensee can stay inactive until automatic deletion to 120 days.
Added a "delete fulfilled" button to the LMOS command.
Added a "low on consumables" notification that will be sent after consumption if the remaining stock of an item will run out within the next 3 consumptions.
Added the cargo volume and weight capacities to the FLT command.
Added a new state to the FTL fuel tank display: It will have a red border in case a ship does not have an FTL reactor.
Production orders in PROD are now sorted by remaining time.
Filters in LM will now stick to the top when scrolling, so you don't have to scroll back up.
Added tooltips to command buttons in the left sidebar to reduce new-player confusion.
Changed order of weight and volume displays to always be weight / volume.
Renamed "close" button on contract offers to "accept" to reduce confusion.
List of buildings BBL is now sorted by name of building and also by condition
Balancing
Reworked the manufacturer profession to make it less confusing to start with and give it more of its own identity. Instead of starting with an incinerator and a collector, the default path is now setting up 2 BMPs and buying any required input materials for your recipes. Starting materials were adjusted accordingly to limestone and silicon ore for the first MCG production runs. Due to the focus on early transport and investment, the starting capital was also increased.
Silicon (SI) was super cheap since it was almost exclusively produced (way too efficiently) as a byproduct and not from actual Silicon Ore (SIO). Shoutout to @DulcetTone and @Ficks_Dinkum for bringing this up.
Changes:

ZR and BE recipes in AML now have SIO as a byproduct instead of SI.
Increased SIO in GL recipes from 1 to 2, since there will now be more SIO circulating. Recipe duration got reduced slightly.
Added NA to all GL recipes to make NA more useful (also it's actually involved in this process in the real world).
Added new GL recipe involving FLX with slightly increased output to make FLX more useful.
Added new SI recipes in SME using C, O and (optionally) FLX.
Fixes
We fixed the bug where one couldn't start a STL flight after a aborted FTL jump in some cases. This should work all the time now.
Fixed a bug where the payment for a shipping contract created through a contract draft would be booked as material sale instead of transport revenue
Fixed a bug where two notifications of the same production line wouldn't stack properly.
Fixed a bug where the developed area of a base was wrongly displayed as 25 in some cases