Release: Convergence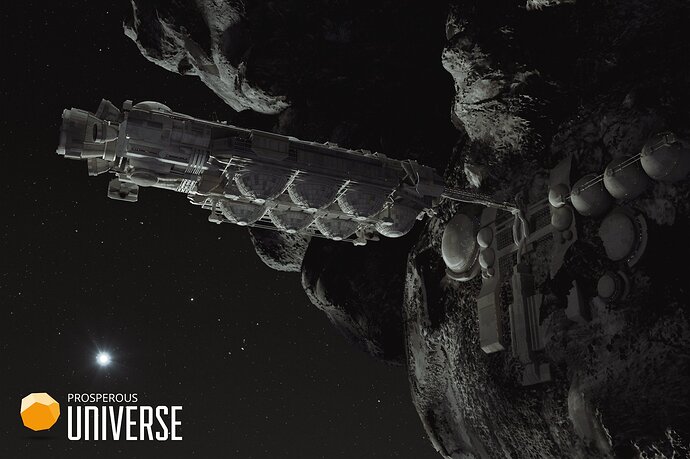 Release date
The Convergence release will be released on Wednesday August 3rd.
General Notes
Convergence will bring you the first iteration of custom contracts and the long awaited ship upgrades! We also renamed the TRIAL license to FREE!
If your APEX console is stuck in a loading state after the update, please make sure to refresh it once after the update to ensure you got the latest version.
New features
Ship Upgrades
There's a new section in the shipyards where you can select not one, but two blueprints to start a ship upgrade project. This means you don't have to collect all the materials to build a full ship anymore, but can gradually enhance your ships.

The cost for upgrading will be the difference between blueprints. Also, you need to select a ship (that's present at the shipyard) matching the origin blueprint in the project's SHYP command before starting the upgrade. The ship also needs to be empty (inventory and fuel tanks).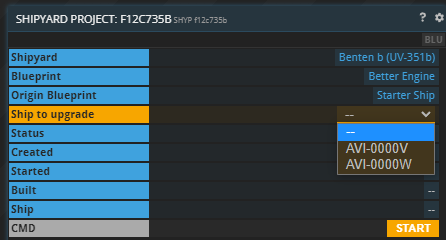 Note: While a ship is being upgraded, its stores are locked and it can't start a flight.
To create shipyard projects, a PRO license is necessary. More information on ship upgrades can be found in the handbook.
Custom Contracts I
The first iteration of custom contracts allows to create contract drafts from three contract templates. The templates are very similar to the BUY, SELL and SHIPMENT ads that can be found on the local markets.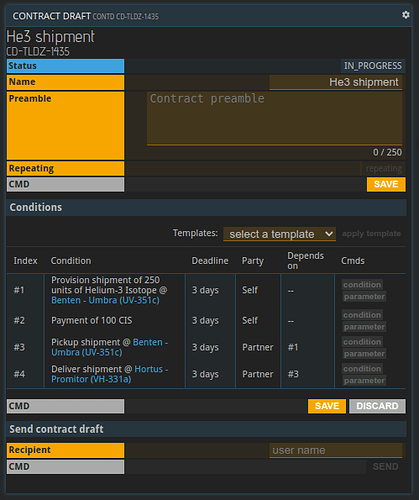 A contract draft can be send to any licensee for review without going through a local market. The other party can then close or reject the contract. Once it is closed, the contract works exactly as any other contract.
To send contracts to other licencees a PRO license is necessary, closing a contract requires BASIC or PRO. More information on custom contracts can be found in the handbook.
Contract Termination
Sometimes two partners want to terminate a contract immediately, because the reasons for the contract or its conditions became irrelevant. This has only be possible in the past as long as no condition has been (partly) fulfilled. In that case the contract just got canceled after the deadline ran out. In any other case the contract got breached and one party received a hit on their rating.
With contract termination we introduce the option to terminate a contract by mutual consent. Any party can send a termination request to the other party. Once the other party sends a termination request back the contract is being marked as terminated. The conditions are handled in the same way as if a breach would have happened. Payments are written off, provisioned goods are un-provisioned etc. A terminated contract will not influence the company rating.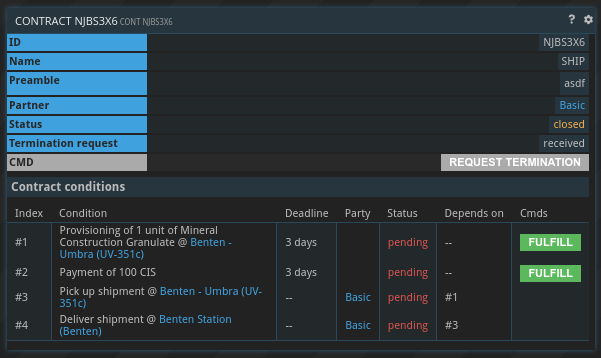 Changes
The TRIAL license has been rename to FREE. Besides the name change nothing in the way the licenses work has been changed.
FX fees have been reduced to 0.1%
CXOS now has a button to delete all filled orders at once
A default starter ship blueprint was added to each player's blueprint collection (BLU) to make the starter ships work with the new upgrade feature
External links now open in a new tab by default
We removed the blue license banners as they confused some players how much of the game is actually playable with a TRIAL/FREE license. Instead we now show a lock icon on the specific action that requires another license