"Star Fleet Command" - i.e. the Pyrgos CX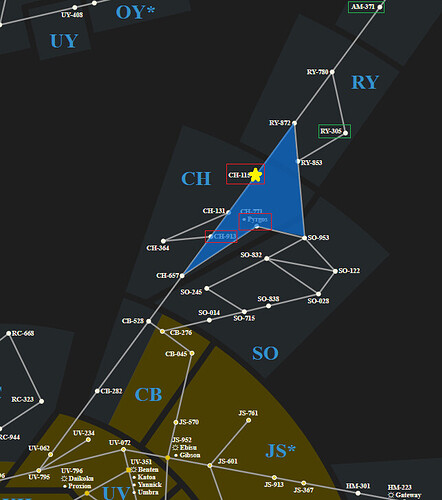 (Image adapted from FTL map at http://www.prosperous.freecluster.eu/)
We would like to propose the Star Fleet System - a group of planets almost equidistant from both Benten (8 jumps) and Moria (9 jumps) exchanges.
The community in Pyrgos (CH-771a) has shown tremendous cooperation despite being made up of members from several corporations and with no formal government for collecting taxes. Despite this, they built an LM and a SST and have plans for a COGC.
While Pyrgos is one of the best H2O and Fertile Tier 1 planets, the real value in bringing an exchange to its area is the rich set of later game resources in the surrounding higher tier planets. An exchange would enable easier trade as these resources are tapped - and encourage more non-PRO players to consider them as their second base options.
These include: BRM, BER, LIO, HAL, CLI, TAI, LES, TCO, TIO and F.
Focus System:
CH-115 (star in chart above)
Focus Planets:
Star and red boxes
Pyrgos (CH-771a) Tier 1
Resources: Fertility, H2O, O (Small), AMM (Trace)
Function: Worker essentials (FP, HYF, FER goods)

CH-115a Tier 1
Resources: GAL, LST, BRM (Trace)
Function: Fuel and Construction (PP1s)

CH-913c Tier 1.5 (MCG + SEA)
Resources: None
Function: Higher tier workers (see plan below)
Support Planets:
(
green boxes - raw materials to support focus planets)
RY-305c: FEO source for Construction planet, CLI / AUO / AMM

AM-371f: H/AR (already has LM present)

CH-115e: He3 Gas Giant
Growth Plan:
Pyrgos (CH-771a)
Continued infrastructure investment to maintain safety and health.
COGC and possible ADM (but we are open to staying tax free)
CH-115a
Fix worker happiness due to previous POPI bugs
Build LM and Warehouse
Recruit constructors
CH-913c
Joint settle plan among several players to jump-start Tech growth
SST/INF and possible LIB or PBH
We estimate 4 players settling can get first techs in about 4-6 weeks
Faction:
Benten (CIS)
Participants:
Our fellow Pyrgites, including: CarbonRUS, Elder_Productions, Ragnar Industries, Scvalex, Caoslogy & any other interested parties!