Since apparently everyone has one of those, let's get one too!
This one will be very simplistic until populous. It is there to remain transparent
on 2020-08-15 was the first COGC upkeep under ILT leadership. The previous was almost fully paid beforehand.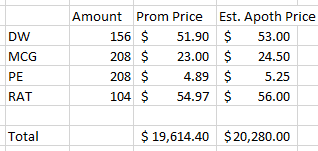 Since Apothecary is not a CX planet, a small ajustement as been made to cover shipping fee.
This puts the Apothecary Governership Wallet at (20.280) ICA. Next update coming tomorrow with the first payout.