The Problem
Right now there is a big problem - Promitor is about to be overrun by an ad campaign that attracted settlers from the foreign land of Youtubia!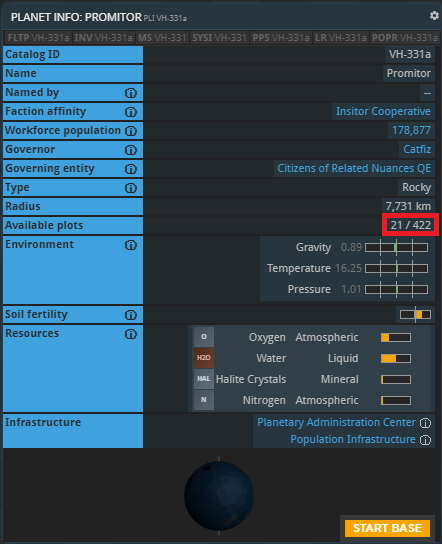 What happens if we do nothing?
Promitor is down to 21 free base slots, and I expect that in less than 24 hours there will be zero. Fortunately, many other starter planets such as Katoa, Proxion, Montem and other still have hundreds of plots left. New players will have options of where to start, but we are also just 1 or 2 ad campaigns away from planets like Katoa and Montem filling up as well. At this point the alternatives will start to look mighty unappealing. Just how many players can settle planets like Umbra or Prism before the Hydrogen and Helium market crashes? Do we really want to force new players to settle second rate planets 3-4 jumps away from the CX?
What did we do last time?
In the previous universe, the exact same problem occurred with the influx of the PC gamer crowd, and was solved by the devs by increasing the number of available plots on the CX worlds (Promitor, Katoa, Montem) to accommodate the PC Gamer crowd.
What will come next?
Keep in mind that we are currently only a few weeks into this new universe. There is also a potential crisis of epic proportions looming on the horizon - in the coming months, I expect many players will begin to reach for the stars and build their second base. Many of these players will choose other starter planets as their second and third bases. It is all but inevitable that many of the best planets, especially those in faction space, will be settled completely and the available space will dwindle to zero.
There are basically two scenarios that I can foresee unfolding:
The game will become a victim of it's own success, and starter planets will get filled up, and the devs will need to do something about it each time.
The game will maintain a small player base, and mostly plots will not matter.
Plots outside of the starter planets will likely not matter for a very long time, and if they do we will already have gone through multiple growth surges that have filled the best starter planets, with the devs increasing their capacity each time.
Proposed Solution
At the end of the day, I think we need a much more radical solution to this problem - I propose that we abolish the plot system. It should be removed entirely, as I don't think it is serving the intended purpose. The game needs to be able to scale organically, and this artificial mechanic just breaks the game every time we hit it. I think it is time to decide that the experiment with this feature is over and remove it from the game.