Heyo everyone, it's me again.
So, with the current discussion in frostwood's thread, I have been thinking a lot about ways to promote going up tiers in PRUN. I think there is little to not reason to move up tiers atm, and the gap between the few needed T2 mats to grow your bases to ships and high-end MM in T5 is huge.
Froswood's thread, go read it!
So I analyzed the current ship tree. I only really looked into cargo since the engine tree is not very rewarding in the current settings. I wanted to look into the tank tree, but to work with the idea, it would need a rework which I don't think is a great idea right now.
In one of the latest devlog, Molp let us know that all ships will be modular (or as we say, no more noobships)
Now that we have blueprints and ship components we want to get rid of the hard-coded ships
This would make it interesting to have a progression gated behind mid-later tier population, that would affect everyone in game. Therefor, I made a small upgradeable ships idea that seem to make sense to me (def not something super detailed, just came up with it in the middle of a boring class)
This would assume that new player start with the smallest cargobay possible : 100t/100m3
I also used old MATs in the idea to reduce the blabla. This could def use newer MATs even tho I feel like we already have too many useless ones in game.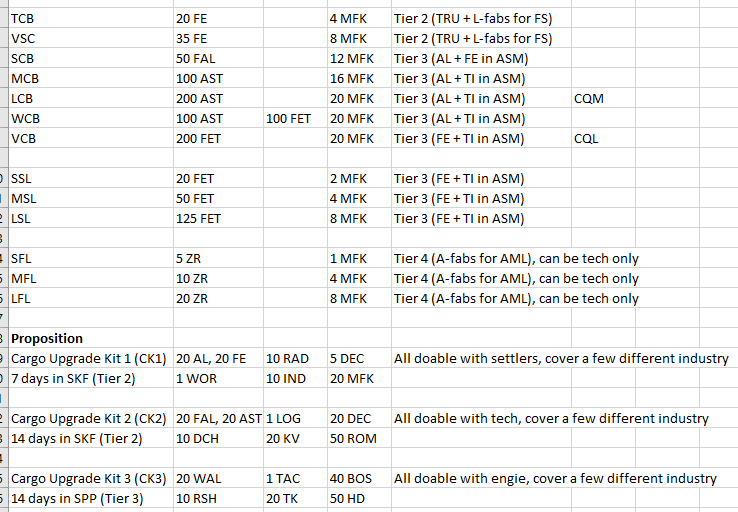 PROPOSITION: Cargo Upgrade Kits
They come in 3 tier : Tier 1 allows upgrade to VSC and SCB. Tier 2 allows MCB. Tier 3 allows the LCB, WCB and VCB. To upgrade the ships, you would need 3 items : The upgrade kit, the new cargo and the required extra plate, SSC and crew carter (if applicable).
The idea behind their recipe is that they are slow, annoying but rewarding to make. A single player making them probably can't feed more than a few friends. It would require multiple industries, in small amount to promote working with others. At their minimal level, none of these are particularly efficient to make either. The goal would really to make it something you don't want to spam build. Getting them should be something easy, but long and rewarding for players.
Obviously this idea could translate into plate upgrades. Some relatively complex item that allows player to upgrade their initial plates to RHP, HHP or even add BPT for a certain cost.
I think, overall, this will make it more interesting and rewarding to go up the tech tree, as well as make the ship tree available to everyone in game! It can make it very rewarding for the first few groups to reach tech and engineers level earlier on without having to fill the "gap" between T2 and T5.