Release date
The Presence release will be released not earlier than March 12th. Please note that this is a pretty ambitious release date, so chances are we will have to delay it.
General Notes
Presence will bring the long awaited shipping contracts. You will be able to post local market ads to find other players willing to transport your goods for a financial compensation. There is also a new planetary project, warehouses, that allows to rent a storage unit without the need to found a base on that planet.
If your APEX console is stuck in a loading state after the update, please make sure to refresh it once after the update to ensure you got the latest version.
New features
Local market shipping ads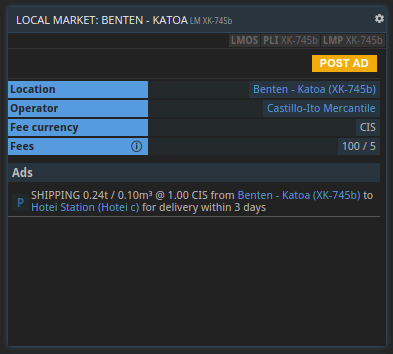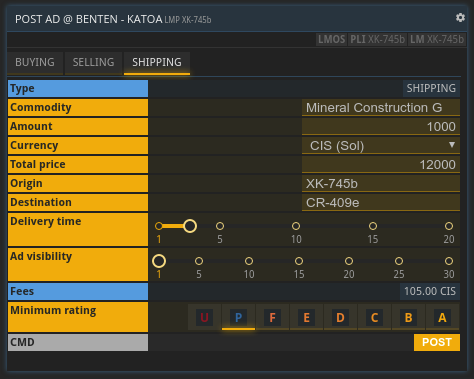 Shipping ads are a new type of local market ad that is available at any LM
They allow to define a shipping contract for a commodity between two locations. One these must be the location of the LM
Planetary project: Warehouse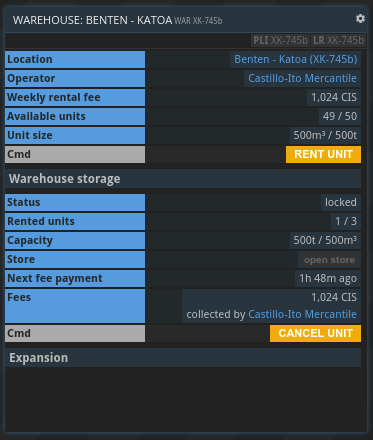 After the planetary project warehouse is finished a new command WAR will be available. With it you will be able to rent storage units on that planet without having a base there. The storage unit behaves just like the storage of a base, so no more pickup contracts for comex orders and sending ships to collect your LM purchase before the deadline hits.
Warehouses have a weekly rental fee that is being set and collected by the local government.
Mushrooms
You can now produce Mushrooms (MUS) in the Hydroponics Farm (HYF).
(Special thanks to Rubicate, who used the "Design a Commodity" APEX PRO license perk!)
There are now 3 new recipes for Rations (RAT) including MUS.
Changes
Balancing
NS output in CHP is now 4 (from 3), while its production takes slightly longer.
It takes slightly longer to produce HCP, ALG and RCO in HYF.
The market maker prices for CLI, LST, MG and S as well as all Ores have been raised.
The market maker prices for all Agricultural Products have been reduced.
The market maker prices for BSE (up) and BTA (down) were brought in line with other prefabs.
The market maker prices for Electronic Systems and NV1, NV2 have been halved.
Misc
Increased maximum advice time for local market ads from 7 to 20 days