Release date
The Populous release will be released on September 2nd 2020!
General Notes
Witness the evolution of your populous. Gone are the days of mindless laboring drones. Workers will need to be taken care of as life in space is particularly demanding. A new order has been passed so that a planet's population is distributed among each base in correlation to their production needs. Planetary infrastructure projects are now available which improve the livelihood of workers and attract more settlers to appealing planets. Governors can exercise their power to control the upkeep of these projects as populations grow and shrink.
If your APEX console is stuck in a loading state after the update, please make sure to refresh it once after the update to ensure you got the latest version.
New features
Population report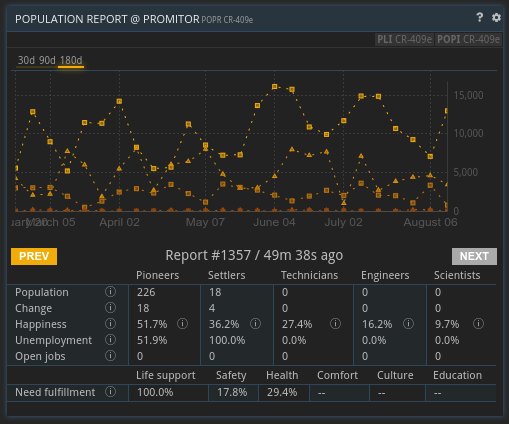 Planets now host a planetary population that can grow and decline depending on various factors. Your local workforce is recruited from that population and gets assigned every week. The new population report shows the change, happiness and unemployment rates of the population
Population infrastructure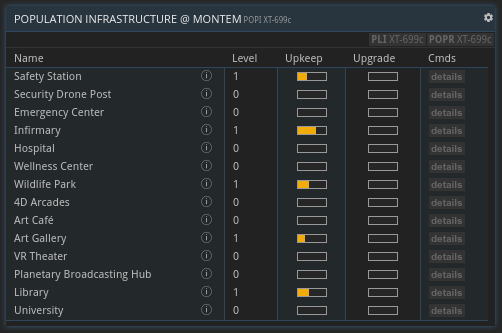 To keep a planet's population happy and growing some infrastructure projects need to be build. Every workforce has their own needs and prioritizes different infrastructure buildings.
Population infrastructure upkeep
Population infrastructure has a constant upkeep that depends on the type of the infrastructure and at what level it operates. Lots of new materials and two new resources have been added and with them new ways of making profit!
Find out more about planetary populations in the updated handbook!
Material Tree Changes
40+ new products as building or upkeep materials for the population infrastructure
New categories: Drones, Energy Systems, Medical Equipment, Unit Prefabs, Utility
Solar Panel SP is now part of the new Energy Systems category, produced in the new Energy Component Assembly building and takes Solar Cells SOL as input
Renamed Parabolic Antenna PA to Antenna Array AAR
Removed SOC and EBS and replaced them with PCB (recipe adjusted)
Replaced WAI in WIN recipe with Chemical Reagents REA and adjusted output accordingly
Removed Mega Tube Coating MTC
Most higher-tier buildings now require TRU
Reduced area cost of SD (to 40) and SL (to 50)
Fixes
During the development we fixed a lot of performance related issues, most of them went live before the actual Populous release. If you encounter any performance degradations after the release let us know!
The amount of notifications send to the client was limited and thus APEX could not display all available notifications. The limit has been removed
Auto-provisioning of contracts now also works if the auto-provision storage is not at the same location as the local market
Fixed a bug where a lot of local market ads with the same id could be created
Fixed a display issue where local market shipments would not be displayed when moved from one inventory to another
Fixed a bug that prevented access to the local rules command