Version
Server: 0.6.20
Client: 0.6.12
General Notes
If your APEX console is stuck in a loading state after the update, please make sure to refresh it once after the update to ensure you got the latest version.
New features
To tackle the the abuse potential of the company liquidation (COLIQ) command we added a cooldown mechanism. The first COLIQ is immediately possible, the second after 3 days, the third after 21 and every following after 60 days.
We know that this won't solve the problem in its entirety, but it is a first (and quick) step into the right direction.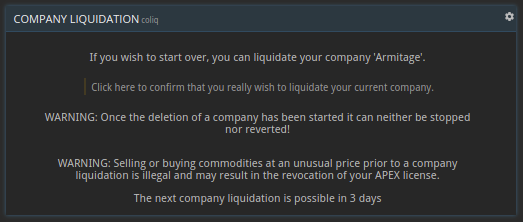 Please also note that abusing the COLIQ command is considered cheating and can lead to the termination of the corresponding accounts.
Changes
Fixes
Fixed a problem on the server that prevented some CORPS buffers to load.