Release date
The 2021.4 release will be released Thursday, September 9th.
General Notes
If your APEX console is stuck in a loading state after the update, please make sure to refresh it once after the update to ensure you got the latest version.
New features
Base Area Expansion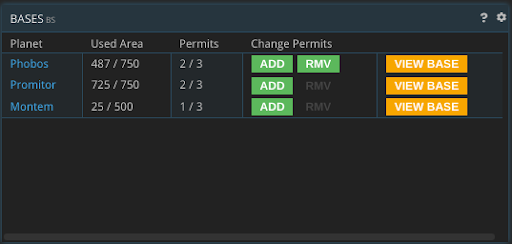 You can now expand a base's area by investing up to 2 additional unused base permits in the base overview screen (command: BS).
Base Demolition
You can now demolish a whole base by demolishing the core module. To do so, the base's area must not be expanded via additional permits, the core module needs to be the base's only remaining building and the base cannot be your HQ. You will also need a storage (i.e. a ship or warehouse unit) for the reclaimable materials (note that core module kits can never be reclaimed).
Local Market Filters

You can now filter local market boards for buying, selling and shipping ads.
Production Queue Management (PRO feature)

If you have an active PRO license, you can now move orders in your production queue up or down a slot via the respective buttons in the PROQ command.
Changes
You can now post LM ads if you have an active warehouse unit on a planet. You do not need to own a base on the planet anymore.
Local market ads now include a ticker that links to the respective commodity.
In case a company is liquidated, its name (with a "liquidated" suffix) will now be displayed instead of the liquidation ID (e.g. in old contracts or corporation logs).
When demolishing a building, its name will now be shown in the confirmation dialogue.
When relocating your HQ, you will now get a confirmation dialogue (including the new location).
To stimulate the economy, we added new market makers for some medium- to high-tier products: AIR, CCD, RED, SDR, SRD, SUD, LOG, CBS, CBM, CBL, POW, SP, ADR, STR, IDC, EDC, and UTS. Note that this is not meant to be a long-term solution, but to improve the situation while we work on new features concerning currency injection. Plan your company's existence around those MMs at your own risk. We will monitor the MMs closely and make adjustments as necessary!
Planets that have been populated once, but have been deserted in the meantime, will receive the explorer's grace again
A new Tectosilisite TS deposit has been detected on Avalon (VH-331g)
Removed all but one hint that are being shown during company registration about the distance to a commodity exchange. It states that starting closer to a CX is generally considered easier.
Fixes
Fixed a bug that caused all LM-related tiles to reload every time a new tile was opened.
Fixed a bug that sometimes caused the HQ panel to not load properly.
Added proper "missing authorization" message when trying to upgrade the HQ above level 5 without a PRO license.
Fixed a bug that kept population at zero even if the planet was already settled on.
Made the open job bonus take effect even if there are no workers of the respective tier yet.
Fixed a bug that could prevent you from setting the population infrastructure target level.
Fixed a bug that would lead to FX orders sometimes using a suboptimal price for the requester.