Hello, people of prosperous universe! We hope this message finds you in a time of good fortune. Ooga Booga Capital Management [OOG] is proud to announce our first public FTL ship auction. The auction expires in 10 days from the time of this posting, on Saturday, April 10 00:00 UTC. This means that final bids should be placed on or before the Friday, April 9, before midnight UTC.
Our member yaro111|Yorkshire Water holds the components to this ship blueprint on Antares I c, except for the 91 Lightweight Hull Plates (LHP). We will deliver these items (minus the LHP) to the highest bidder on this forum post.
Items and payments to be delivered via LM ZV-307c. all currencies accepted.
This ship comes equipped with a standard FTL reactor, medium FTL fuel tank (800 FF) and a Large Cargo Bay, which holds 2000t/2000m3. Thats the equivalent of 4 starter ships, with extended FF fuel tank!
The players who collaborated to produce this ship are:
[OOG] yaro111|Yorkshire Water
[AHI] kapusta|bigos
[OOG] Insensless|Deimos Prefab
[OOG] DLR|Antares Holdings Corp
[OOG] MarkymarkAurelius|Markyfacturing
and the multiple other shareholders of OOG who helped behind the scenes with material sourcing and crucial logistics.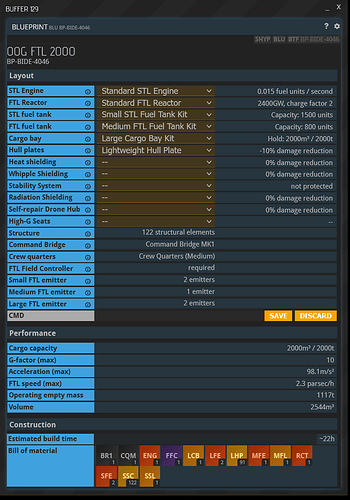 Best of luck!
[OOG] DLR