Here are some suggested changes to the company creation screen: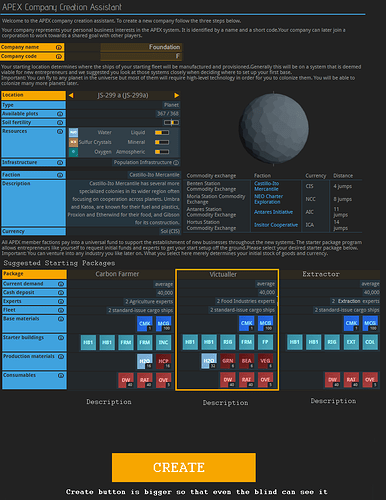 Disclaimer: I'm not a graphic designer and this was done in MS paint.
Key concepts:
All information should be on one screen
Early access disclaimer should be a separate screen before or after this to avoid confusion
Picking a starting world should suggest 3 starting packages specific to that world
Starting packages should be community sourced but dev balanced.
The goal here is to improve the retention rate of players going through the company creation process. Right now it is not an intuitive process, and you are probably losing a lot of players before they even click the create button.
The other goal here is to tailor the starting packages based on the starter world. The current interface where you need to select a package and then a planet is extremely poor, and you need to click back and forth between the tabs to see all of your options with out much information about the game. Many players start off with a package that is not good for their starting world, with no idea that they are setting themselves up for failure. By giving them three good choices for each world that they can start on, you maximize the opportunities for a new player to succeed. This also allows us to tailor the starting packages to the worlds, so that we don't just have a handful of generic packages that aren't actually viable on most worlds.
At some point in the future, perhaps governors could have the ability to update the suggested starting packages based on current market demands.