I'm not playing on the live server until the next reset but I am looking closely at all of the new Ignition content on the test server. I figured I'd start a thread up for Ignition feedback!
Shipping and Blueprints:
You can build a ship with no FTL reactor but the FTL tank is still required. The tank is not the most expensive ship item but it would be nice if you could also omit the FTL tank. I realize this may make things more complicated in terms of how the fuel window currently works and it makes sense that it is the way it is to save time.
It may seem odd but in order to allow more ship specialization it would be good to have things that do not seem all that useful. For example a tiny variant of the STL and FTL fuel tanks. The variety of cargo bay options is a great example of something that allows for a lot of specialization.
You can only see a difference between the different STL engines in terms of thrust if you have the Advanced High G seats enabled in most cases. With no seats enabled there's no difference in the acceleration max no matter which engine is picked. Maybe this is intended but it would feel better if there was some more of a difference on engine choice without the seats or at least more of a spread on the basic seats.
Materials
I love seeing a lot of the unused items like TK and ZR getting multiple uses. There still seem to be a couple of items that are not used. It is hard to see on the test server if they might now be getting used in base construction or planetary projects but as far as I can tell they are unused in all of the new ship items. For example the radiation shielding is not used in any of the anti-radiation plates.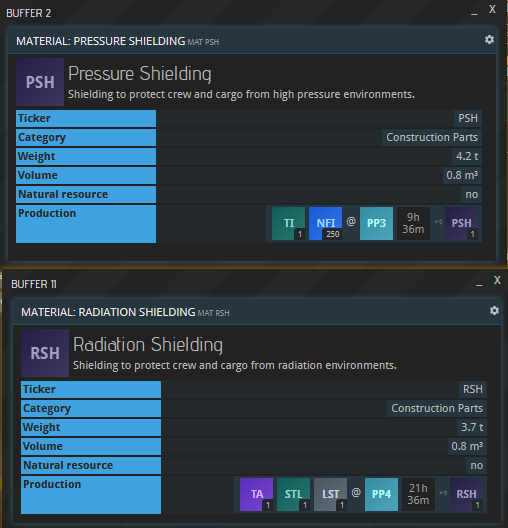 I just wanted to get my first set of notes in and I will likely update this or post more on this thread as I look harder at the materials.