Here are the basic habitation structure costs as they currently stand.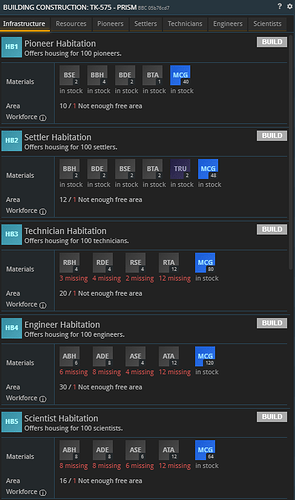 Looking at this list, it should be fairly obvious to most people that there is a significant balance/cost gap between settlers and technicians.
I propose the following adjustments:
HB3 (Technician Habitation) now uses LFABs
HB4 (Engineer Habitation) now uses RFABs
This is a relatively simple change, and the adjustment should allow players to fully staff a prefab plant that produces the prefabs of that tier without having to purchase them from the market or run their prefab plant at 1/2 to 1/3 capacity to house the appropriate workers and "tech up". Right now the "more complex" 75/75 residences such as Communal Abode are significantly cheaper and easier to build than the "simple" 100 worker versions, because their recipes call for less RFABs and AFABs.