Hello! Thank you Gibson for your show of support in electing me as governor! As y'all know from me yapping in the planet channel, I'm working on building a COGC for Gibson. The key part of this accomplishable right now is L-fabs, so any L-fab producers on Gibson, contact me and we'll work out a fair price for your product. Additionally, if you want to become an L-fab producer, contact me and the government can help fund your endeavor in exchange for a portion of the investment back.
Contact me here, in the planet chat, or in the UFO discord if you're interested.
In further COGC news, our first purchases of 11 LDE and 6 LSE have been made, putting us on our way to having a COGC. Keep up with our progress here: Gibson COGC Planning - Google Sheets
As for the financials, here's our statement: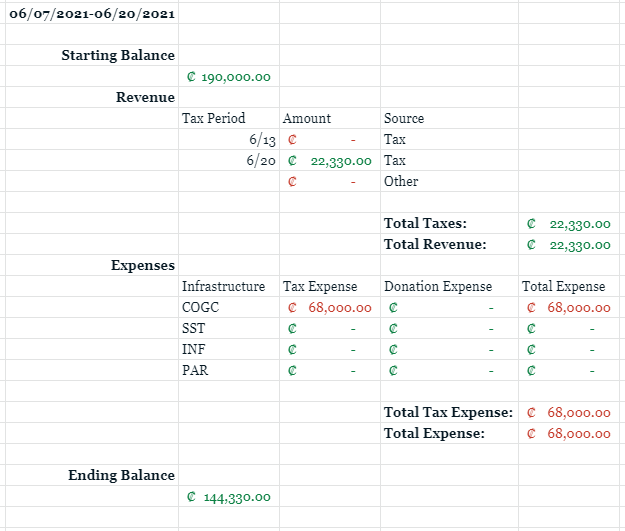 I also ran a poll on where taxes should be set in the coming weeks. Very few people responded to it, so I will be moderately increasing taxes to 20 CIS, although LM taxes stay at minimum.
Give me your feedback on all of this here or in the UFO discord, thanks!
Edit: A quick thing I forgot, here's a link to the accounting spreadsheet: Governance Expenses Gibson - Google Tabellen