Release: Maintenance 2023.01
Release date
The APEX update will be released on March 8th 2023.
General Notes
If your APEX console is stuck in a loading state after the update, please make sure to refresh it once after the update to ensure you got the latest version.
New features
Introductory Faction Contracts and User Interface Tours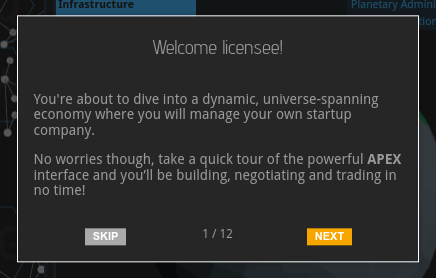 Besides the existing user interface tour we added additional tours for setting up and manage a base, space flight, contracts and trading at the commodity exchanges. Each new tour is accompanied by new faction contracts that offer monetary and material rewards for new players.
Building Repair Assistant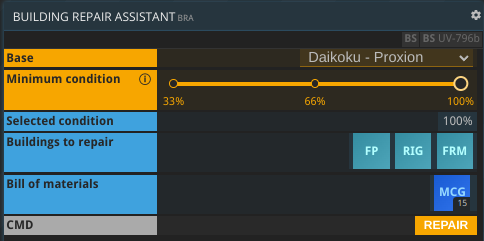 With this new PRO command, you are able to repair multiple buildings at once. Just select a base and a minimum condition and all buildings below that condition will be selected for the repair. The required sum of materials will have to be present in the base's storage of course. Note that even as a BASIC or FREE user, while you won't be able to click "repair", you can still use this command to quickly calculate required repair materials to add to your shopping list for your next CX trip!
Changes
Faction contracts where companies need to provision certain commodities to a faction agent now favor commodities that the companies produce themselves. This should make these type of faction contracts more relevant for individual players.
Faction contracts that require shipping of commodities do target the closest commodity exchange in many cases now. This should make these type of faction contracts more attractive to new players that need to fly to the CX to replenish consumables and sell their products.
The first line (planet ID) in PLI is now clickable, so you can hover over it with a universe map opened to highlight the planet's location on the map.
Moved "unload" button in FLT to the right and added a gap between buttons to reduce misclick pain.
Mobile UI: Specified the type of input field, so that on numeric input fields a numeric keyboard will pop up
Balancing
Reduced EDC MM (16000 → 13000)
Reduced IDC MM (20000 → 18000)
Fixes
We updated the underlying tech that enables communication between the browser and the servers. We hope that step helps to minimize random APEX reloads.
Ships without an FTL fuel tank no longer show a full FTL fuel bar in some browsers, but are always displayed as empty now.
Sort order of ships in FLT doesn't change randomly anymore when building additional ships (i.e. they stay sorted by transponder code).
Faction contracts won't display the "request termination" button anymore (it already had no effect).
Fixed a bug where the amount of used permits would not update automatically after demolishing a base