Release date
The 2022.02 maintenance release will be released on Tuesday, March 29th.
General Notes
We want to release a smaller maintenance and bug fix release in March. We'll add more items to the list as we go and will let you know the release date as soon as possible.
If your APEX console is stuck in a loading state after the update, please make sure to refresh it once after the update to ensure you got the latest version.
New features
Ship unloading


The FLT command and ship inventories now feature an "unload" button that will transfer all items from the ship to a base storage (or warehouse if there is no base) in one click.


For PRO users, there's also a handy new "Unload on arrival" setting when sending a ship on a mission.
In-game alert settings


The new NOTIG command lets you disable in-game notifications by type, so that they're filtered out from the NOTS list. No more production notification spam!
Commodity Exchange Material Overview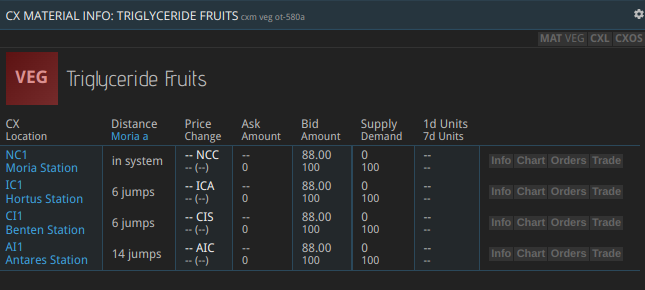 For PRO users, there is a new CXM command that will allow you to compare CX information on a specific commodity across all commodity exchanges. The command optionally takes a planet as a second parameter and shows you the distance between that planet and each exchange.
Material Transfer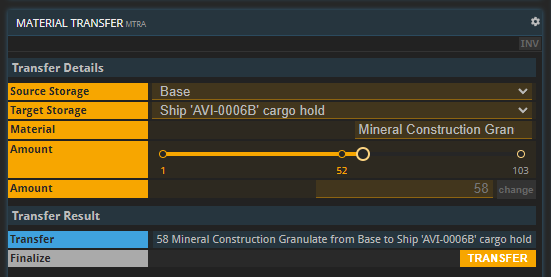 Using the new MTRA command, you can transfer specific amounts of a material between inventories. This also means the game is playable without using drag-and-drop now. However, you can also quickly access the command with pre-filled details by dragging a material to the new "AMT" field of a storage.
Changes
The educational government programs change from being an additive to a multiplicative modifier of the level-up rates. Costs have been adjusted slightly.
Market maker changes:

SDR buys at 72000 (was 80000)
SRD buys at 53000 (was 55000)
ADR buys at 48000 (was 53000)
UTS buys at 2200 (was 2500)
Fixes
Fixed a bug with government programs that allowed happiness above 100%
Fixed a but that allowed government programs to be out of sync with population reports. Workaround for the time until the release is to only have one program running (no upcoming program selected) and once that program has been used in a population report schedule the next one.