Release date
The 2021.3 release will be released on Wednesday June 23rd
General Notes
If your APEX console is stuck in a loading state after the update, please make sure to refresh it once after the update to ensure you got the latest version.
New features
Variable company HQ production modifiers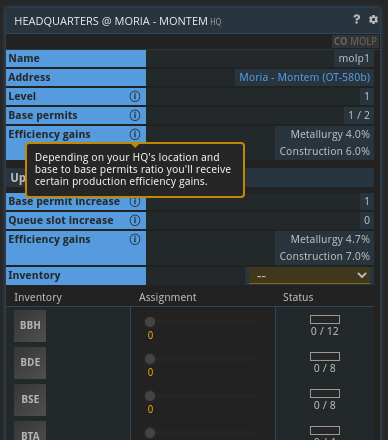 The production modifiers granted by the company HQ now have a component that depends on the ratio of used base permits to available base permits. The smaller the ratio, the higher the additional bonus.
Changes
Price bands are not mandatory anymore, if using a PRO license and having a company at least 45 days old
The happiness boost gained from open jobs is now capped by the general happiness. This makes the strategy to just spam a base with empty/unused habitations to improve a workforce's happiness less effective.
Station links lead to the STNS command now instead of opening a system map.
Added new commodity Sodium Borohydride (NAB) to CHP. It's used in new alternative recipes for SF as well as BLE and is the result of @Gladi099's "Design a Commodity" perk.
PDA recipe now uses LD (produced by Technicians in SD) instead of DA.
Removed DW, RAT and SP market makers.
Fixes
Fixed a bug where it was impossible to collect resources that have been added after the universe started. If you are in the same situation please get in touch.
Fixed a bug where the test flight calculation would hang, if no FTL fuel tank has been selected
Fixed a bug that didn't allow to run for governor right after a successful run.